Long story short – from driver to drivers
I often drive a car with the navigation displayed on my phone, which is mounted in a holder on the windshield. It occurred to me that it would be possible to turn on background recording and use the phone as a car camera. I started looking for an app on Google Play that could record in the background, was stable, and could be easily set up. I tested a lot of Dash Cam apps from Google Play, but none suited me, so I decided to write my own app. User-friendly Dash Cam Travel application used as a car camera to the windscreen of a car for daily riding. Dash cameras are the most objective eyewitnesses on the road.
The Best Features
Information top bar
Displays all important information such as: date, time, speed, recording length, current battery status, current current, altitude, free space, device temperature monitor, custom text on the screen (license plate or car name), name of your current location. In the settings, you can turn on / off the display of some information.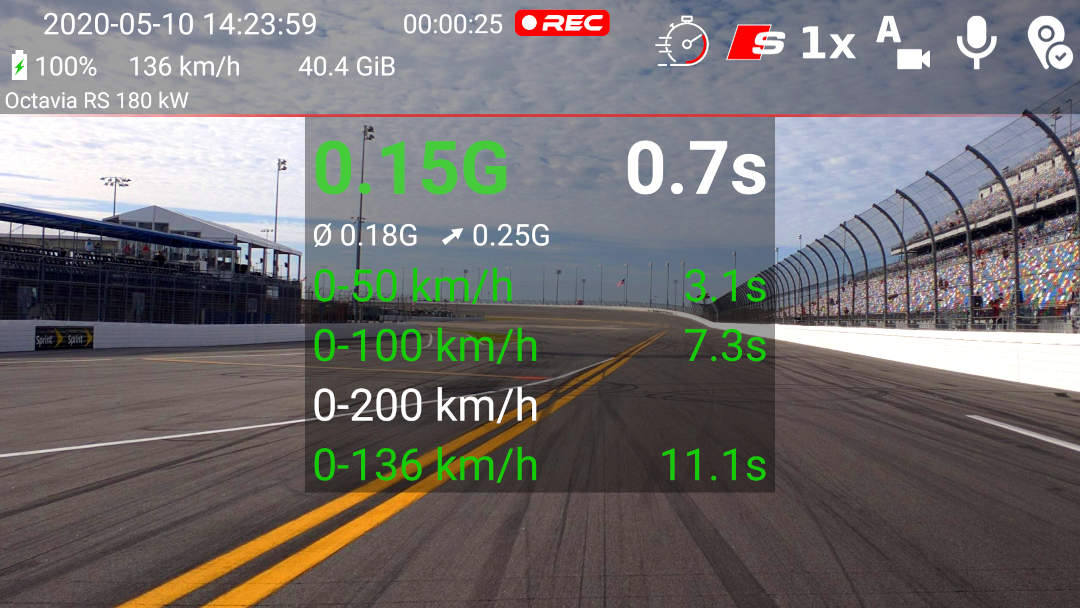 Acceleration
Record your acceleration, time and g-force and see the results on the screen or in the recorded video.
• 0 – 50 km/h / 30 MPH
• 0 – 100 km/h / 60 MPH
• 0 – 200 km/h / 125 MPH
• 0 – MAX km/h / MAX MPH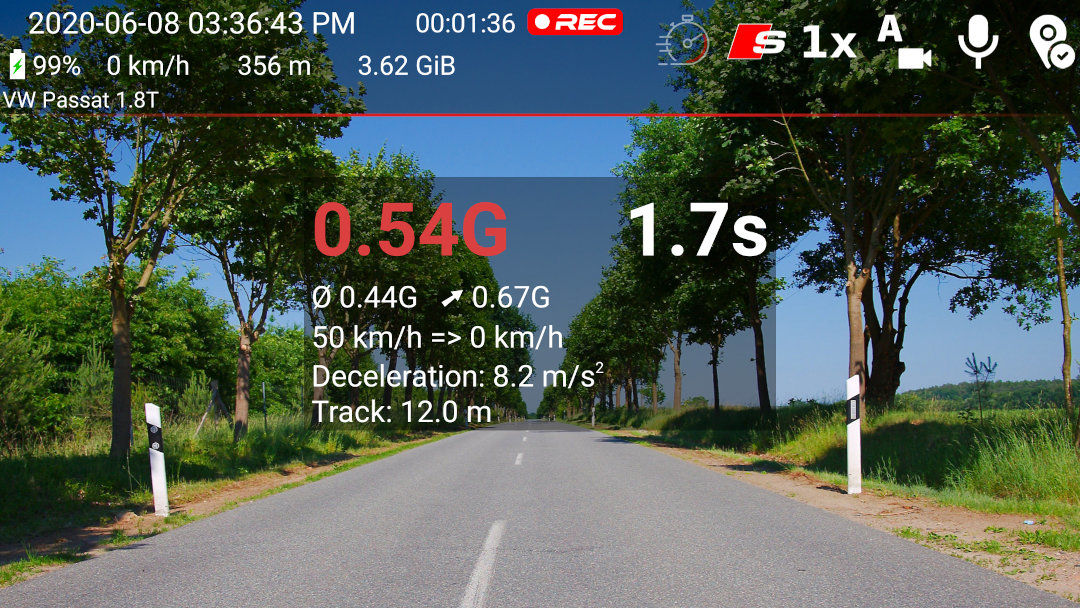 Braking
Record your braking from current speed to 0 km/h / MPH and look g-force, deceleration and braking distance on the screen or in the recorded video.
Ultra-wide angle
Switch quickly between cameras direct on the screen. From Android 11 You can also use a ultra-wide angle camera if your manufacturer allows it.
Inclinometer
Record the tilt (pitch angle + roll angle) of the vehicle with an inclinometer in the hills or mountains and see the results on the screen or in the recorded video. Suitable for off-road vehicles.
Loop recording
Record in a loop and save space on your phone.
Old records will be automatically overwritten by new ones.
Max. length of video: disabled / 1-60 min. Recording continues automatically with the new file.
Max. number of records: disabled / 2-30. Automatically deletes old files.
One click permanently saves the record from the loop.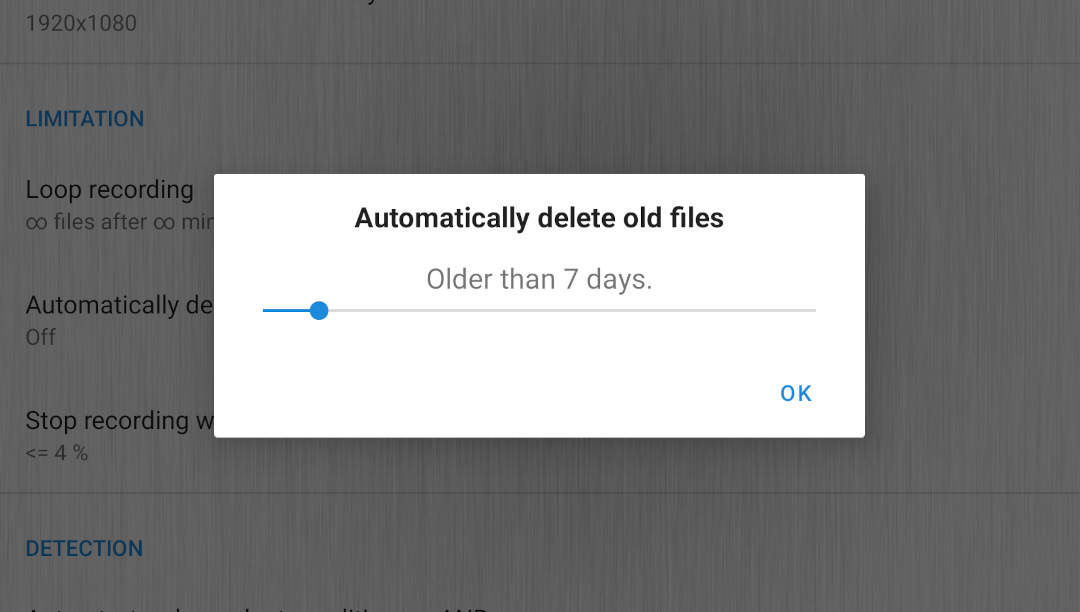 AUTOMATIC DELETION OF OLD FILES
Keep recordings on the device for only N days and save space on your phone.
Auto-Start / Auto-Stop
Depending on the defined conditions, the application can start or stop recording.
Auto-start condition(s): typically over-speed 15 km/h / 9 MPH + power supply connected.
Auto-start action: typically background recording.
Auto-stop condition(s): typically speed 0 km/h / MPH + power supply disconnected.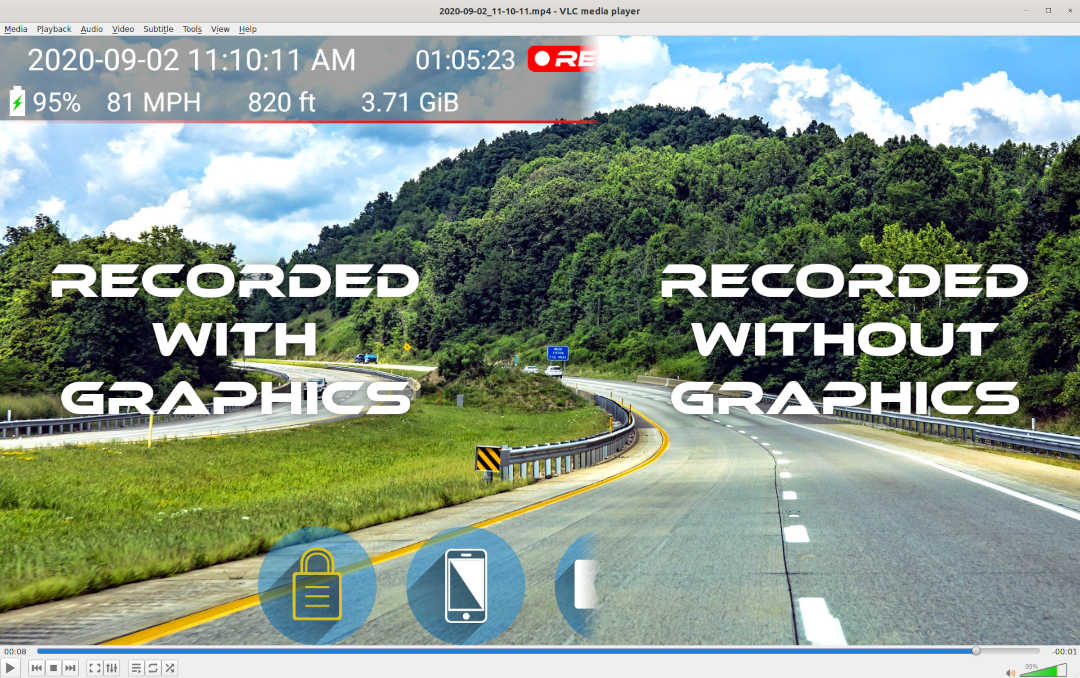 Recording with graphics
Recording with graphics means that all the important information which you see on the screen will be in the recorded video.
Recording without graphics
Recording without graphics means that all the important information which you see on the screen will not be in the recorded video.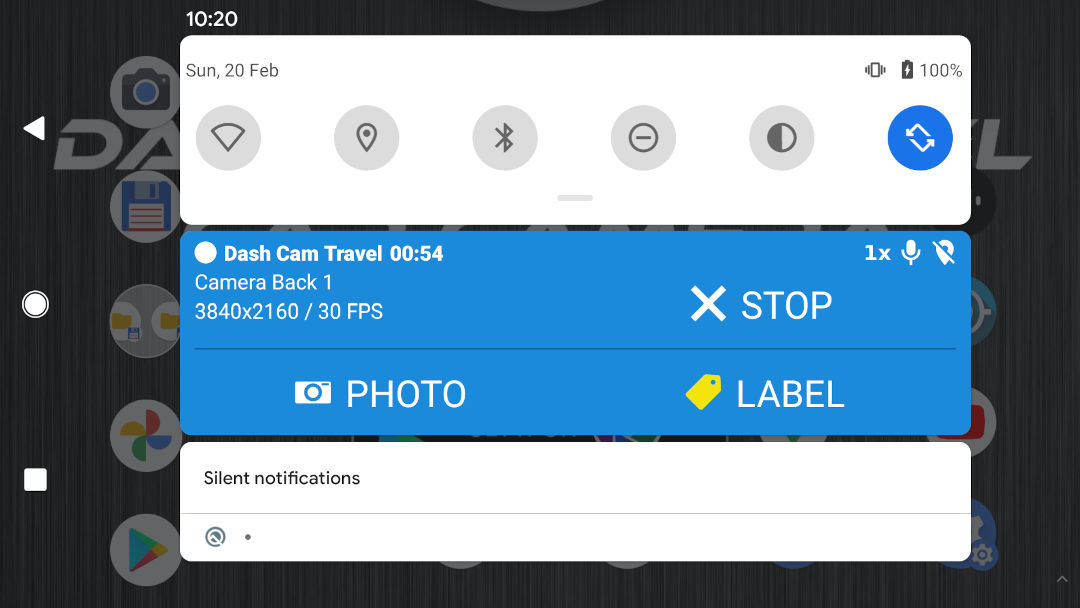 Recording in the background
Background recording with notification displayed. You may have another application, such as navigation, displayed in the foreground.
Recording via desktop shortcuts
Desktop shortcuts for quick launch recording without graphics, with graphics or in the background. To display the menu, simply hold your finger on the app icon on the home screen.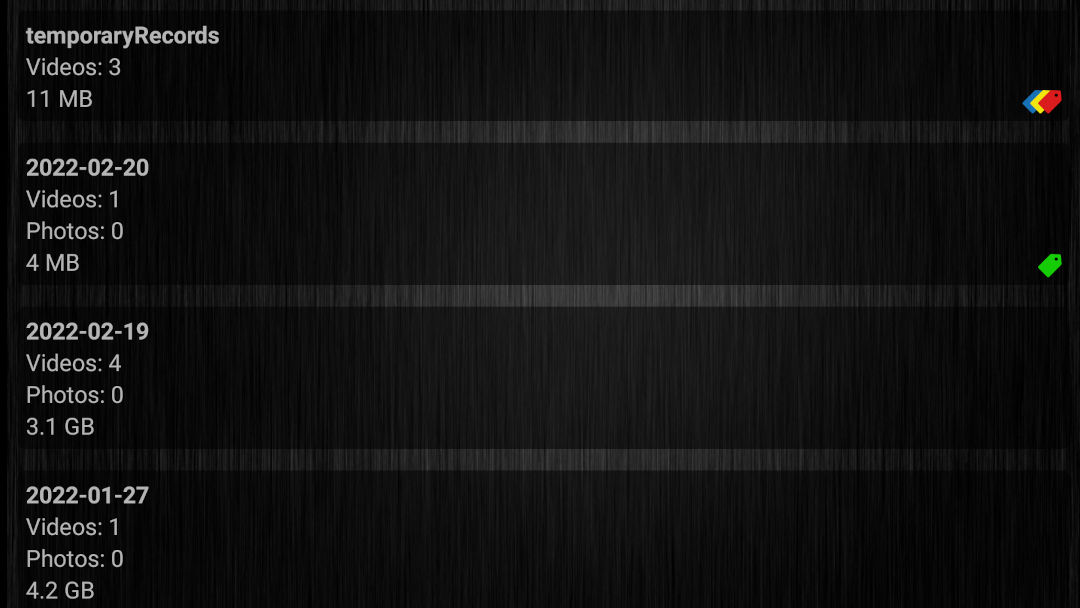 List of directories
List of the days with colored labels. Simple and clear.
List of files
See all your videos and photos from your travels! View all data from your trip like total distance, max. speed, average speed, max. altitude, starting / ending address.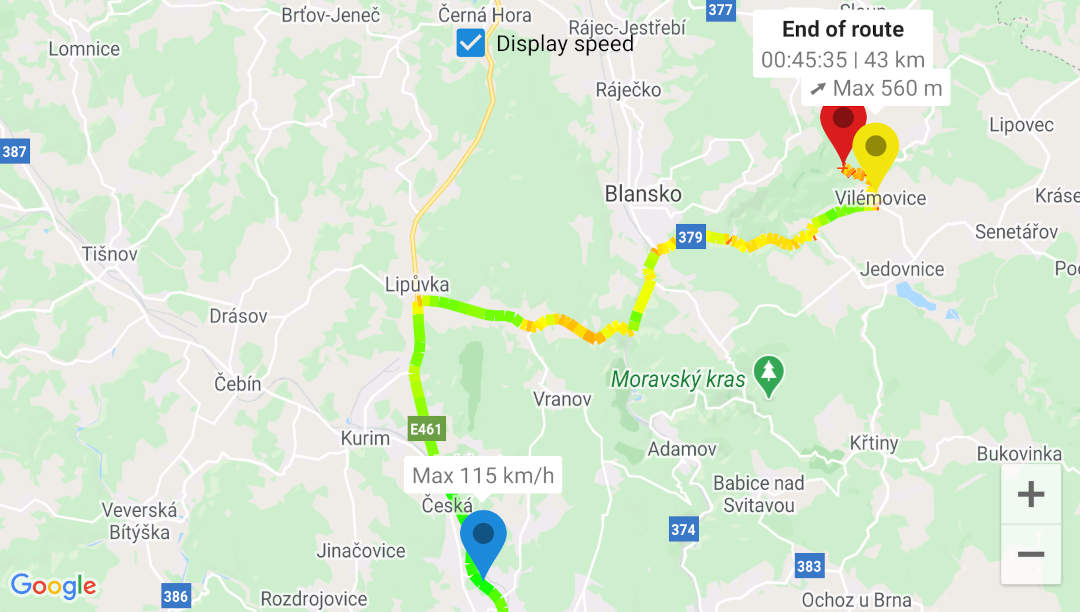 Recorded route in Google Maps
Show your recorded route in Google Maps with a graphical speed layer.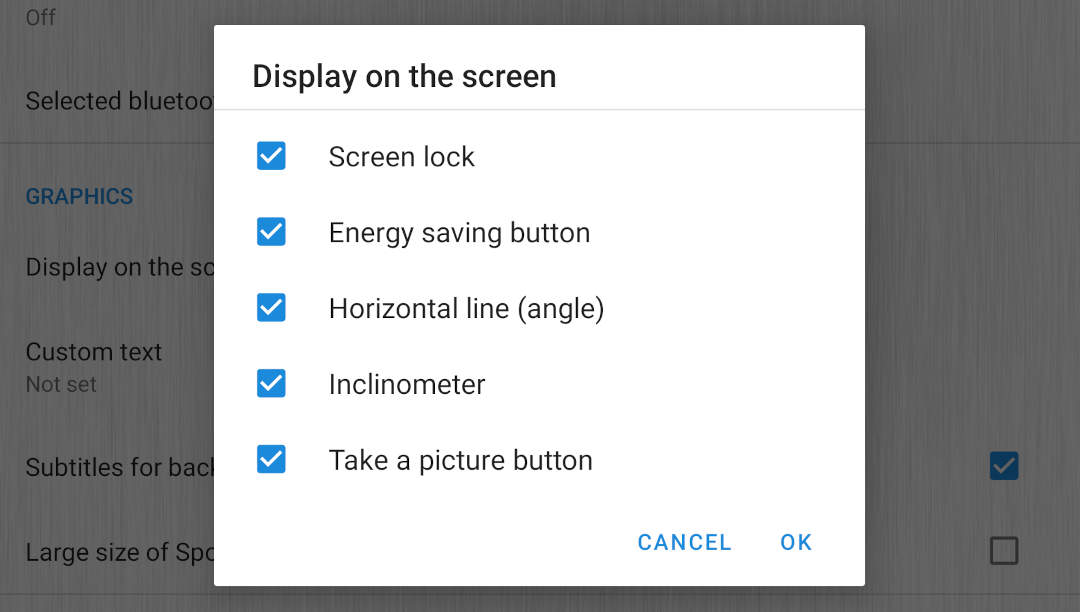 Optional graphics on the screen
Select the information that you want to display on the screen and be part of the recorded video.
YouTube Auto-Upload
Back up all your recorded videos to YouTube and save space on your phone.
Day / Night theme
The theme automatically adapts to your system.
Benefits: visible during the day and does not dazzle during the night. Can reduce power usage by a significant amount (depending on the device's screen technology). Improves visibility for users with low vision and those who are sensitive to bright light. Makes it easier for anyone to use a device in a low-light environment.
Languages
The application is translated into several world languages, see below. The translations are constantly improved by the community. If you want to improve an existing translation or create a new one, write me an e-mail.
🇨🇿 CZ | 🇩🇪 DE | 🇬🇧 🇺🇸 EN | 🇪🇸 ES | 🇫🇷 FR | 🇭🇺 HU | 🇭🇷 HR | 🇮🇹 IT | 🇵🇱 PL | 🇵🇹 PT | 🇷🇺 RU | 🇹🇷 TR
Real reviews
"Best of DashCam apps on Google Play market 👍 Interesting feature is Sport mode. 🏎️ Auto-start working very well after enable it in Xiaomi Android system settings of autostart applications. 🎉"
"Great app, everything you want. Went through several apps before this one."
"I am very happy with using DashCam. Combination of Autostart by GPS, loop recording and background recording is best for me. 😍 Good work 👍 Good options, good stability, simple user interface. Nice."
"Works really well, and great that it has infinity focus, so you don't get a closeup video of what birds leave on the windscreen! Recording in the backcround is very useful. A great app to have onboard. Thanks, Mark."
"The movie is absolutely sharp and smooth, with outstanding colour detail (on mySamsung S8). I'm very impressed."
"Perfect car camera to every day using 😎 I charged full version. Works better than other dashcams. Nice UI. 👌Nokia Android One."
"I never drive without using this app. Absolutely worth paying for the full version. Just have to put my phone up, plug it in and it starts recording by itself."
"Best one out of 30 or so dash cam apps I've tried!"
"Great app love it 👍👍👍"
"Best car camera on Google Play 🔥 A lot of features. FPS 60 and Stabilization are working very well on Google Pixel 2. Recommend 👍"
Easy way to use your phone as Dash Cam – Install Guide
Drive safe